I promised you would see more of this adorable little girl this week! She is the big sister to a sweet newborn girl I photographed recently. You can see the newborn and family images here. These images of big sister are a perfect example of why I love lifestyle photography! You've probably heard the term lifestyle photography before, but maybe you aren't sure what it means.
Quoting Wikipedia – "Lifestyle photography is a style of portrait/people photography which aims to capture and document real-life events, situations, or milestones in an artistic manner and the art of the everyday."
I believe that is an accurate definition. Why do I love it? Lifestyle images are authentic, full of emotion, meaning and personality!
Take this photo for instance. This photo took my breath away. Why? Is it a perfect portrait? No. But I can tell you what it means to me. This little girl loves to create art. During our session, she gathered many art supplies to create something special for me and the stairs were the perfect inspirational spot for her that day! When she is older do you think her parents will remember how she loved to create when she was little? Absolutely! Do you think they will miss all of her art supplies that 'clutter' the house? Absolutely! I know this because I have a little artist myself and her creative messes drive me nuts, but I know I will miss them when she outgrows this stage. I also love the innocent, sweet, real expression on her face. This was a real moment..no posing. She was standing on the stairs, turned to look at me and this is how I captured it.
This next set of images were taken while big sister and I had some one on one time together while her baby sister took a feeding break. She took me to her room and decided she wanted to read to me. She grabbed several books, opened one and began to 'read' to me…making up her own words for the book 🙂 I love these images because they have meaning. This is her room. Her artwork hangs on the kite strings on the wall beside her. Her antique bed has been passed down for generations…love that! These images are full of her personality!
She was being so silly and throwing her head back on the pillow in laughter.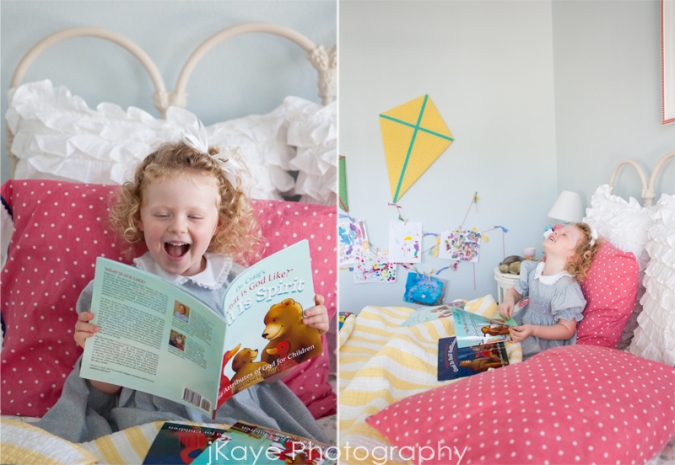 Capturing emotion and connection in authentic moments…that is what I love to do!