We survived the first day of school yesterday! Savanna started 2nd grade and Sydney started 5th grade. This year brings one big change for us. My girls are at different campuses for the first time! They will not be on the same campus again until Sydney is a senior and Savanna is a freshman! That makes me a little sad. I do think it will be good for both of my girls. I believe it will make Savanna more independent and give Sydney more self confidence. It is going to be a great year!
Sydney said her first day was "stressful". She couldn't remember where all of her rooms were and I think that caused her a little stress even though there are plenty of teachers around to help. She said 4 minutes to change classes is NOT enough time!! I laughed a little inside when she said that because I SO remember when I first had to change classrooms and the time between was NOT long enough, but I soon learned to make it work as did everyone else. Overall she had a great day and was very happy when I picked her up!!
The highlight of Savanna's day was getting to eat a Starburst in class! I hope her teacher reads this 🙂
Sydney looking very middle schoolish with her spiked sneakers, sequin backpack and Vera Bradley purse!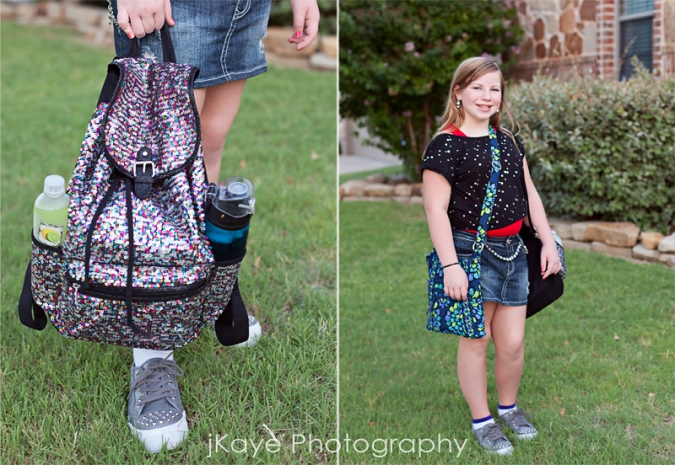 My sweet, silly, sassy 2nd grader!