It's Family Friday! Today I'm sharing Sydney's birthday from last month. If you follow my blog you know I love a good birthday party and I enjoy planning and decorating an at home party, but the older my kids get the more difficult it becomes to think of a fun idea for an at home party. So this year I agreed to a party at Great Wolf Lodge with a few of her closest friends.
I picked the girls up after school on a Friday and we headed over to Great Wolf Lodge in Grapevine for a sleepover! It was a very giggly ride with a suburban full of girls! The 10-11 year old stage is a very fun and silly age. I enjoyed all their silly songs, voices, and faces. My husband doesn't understand it. He just looks at me like "What in the world are they doing?" Haha! Sorry honey, it's a girl thing 🙂
After we checked into our room we freshened up a bit before going to California Pizza Kitchen for dinner. It took forever to get these girls ready and out the door! I felt God gave me a little peek into what the future will be like as I watched these girls getting ready in the bathroom. I could see them all as teenagers getting ready for homecoming or prom together. Ok, now I'm all teary eyed so let's move along to the rest of the night! After dinner the girls changed into pajamas then we visited the gift shop for a little shopping and had a pajama party in the arcade! They had a blast running around playing all the games. Sydney won a ton of tickets at the jump rope game! Then they all played it and won even more tickets! They pooled their tickets and ended up with more than 2,000! They selected some fun prizes like an inflatable chair that they used as a slide and all sorts of things once we got back to our room! We enjoyed birthday cupcakes at midnight and I wondered why I couldn't get them to calm down and go to sleep 😉 We finally got a little sleep and then started our waterpark fun around 9:30am! They had a blast riding slide after slide and swimming in the wave pool! We had a full day of fun and left the waterpark around 4pm! I wish I had a photo of them on the way home. I had a big box of chips and muffins and these girls were so hungry…chip bags were flying everywhere! 🙂
A big thank you to Sydney's friends for making her birthday so special! She said it was the best birthday ever!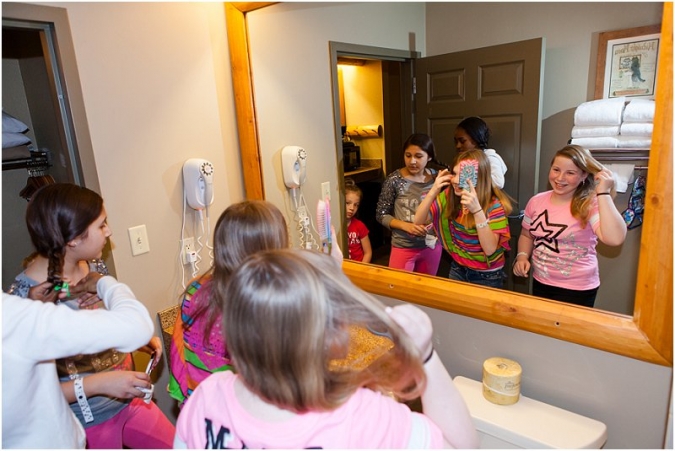 This photo is blurry, but I had to share it. When did my girl grow up???