What started as a weekly series about my family life has somehow turned into a quarterly (ok, semi-annual) update! It is crazy how the routine of everyday life has this way of taking over and the next thing you know 6 months have passed by! Let's pretend this Family Friday series is your favorite Netflix series to binge watch at night, but then you fall asleep and miss 5 episodes and you have to go back to the last one you actually remember watching. What? You don't do that…maybe that's just me!
Here we go…rewind all the way back to October 2014!
Happy Halloween! We had fun trick-or-treating with friends! In case you're wondering, Sydney is Tris from Divergent. The Divergent series is just one of her book series/movie obsessions! (BTW she hated the Insurgent movie because it was nothing like the book!)
Sydney and Savanna's dance team performed at a Texas Legends game in November! They did an outstanding job and the crowd loved them! SO fun!!
Happy Thanksgiving! The girls were my kitchen helpers this year! Here they are rolling out the pie crust!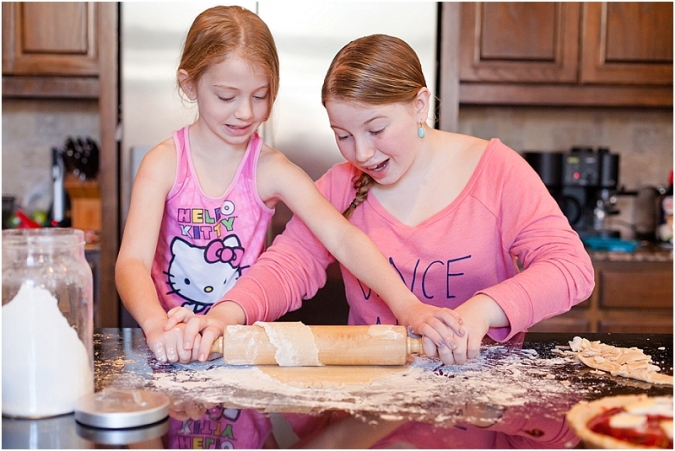 Merry Christmas! We added to our Christmas traditions this year with a gingerbread house…actually it is a graham cracker house! We had a blast building and decorating this thing for 2 days!
In January Sydney and Savanna's dance team kicked off their competition season with a team Show Off performance! It's kind of like a mini dance recital. Their team did great! I'm so proud of these girls!
In February we celebrated Sydney's birthday at Great Wolf Lodge! We had a pajama party in the arcade! Sydney and her friends had so much fun! I had fun watching their excitement and joy!!
Happy Spring! I took Sydney and Savanna out for a photo session in March…this was LONG overdue!! You'll see more from our photo session in a future Family Friday post!


And that brings you up to date on my crazy little family! As you can see, life has been busy and we're loving it…even though sometimes I wish it would slow down!!